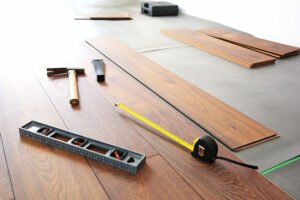 Hardwood flooring is an attractive addition to a home and a flooring choice that is popular with homeowners. Wooden floors have a natural beauty, and due to the variations in the grain, each floorboard is unique, which provides a natural charm that enhances every home. 
Having wooden floors at your home offers many benefits. Hardwood floors are durable, long-lasting, and the ideal match for a range of different décor schemes. This practical choice of flooring is also a lot easier to clean than carpets, so there are many reasons why hardwood floors are a perfect choice for your home. Unfortunately, as with all areas of the home, continued wear and tear can eventually leave your wooden floors looking tired. As your flooring is proportionally one of the largest areas of your home, it impacts the appearance of your entire house, which is bad news if it is no longer looking at its best.
If your wooden floors are no longer looking their best, you may be wondering what you should do next to fix this issue
In this situation, there are two main options for you to consider. The first option is to call in the experts to find out if your hardwood floor is suitable for repair. The alternative is to consider replacing hardwood floors and either having another hardwood floor fitted or choosing an alternative floor covering for your home.   
How Can Hardwood Floors be Repaired?
The question of whether your hardwood floors can be repaired will depend on the extent of the damage and whether they have been repaired in the past. If your hardwood floors have scratches, dents, and marks on the surface, they may be able to be repaired by sanding down the damaged areas and then refinishing them. However, unless you follow this process on the entire floor surface, you may end up with an inconsistent finish, which makes the newly repaired area easy to spot.
Signs Your Hardwood Floor Needs to be Replaced
Sometimes, simply repairing a hardwood floor is not a practical or cost-effective decision. In this situation, it is best to replace wood floors rather than attempt to fix them. Here are some of the reasons it may be better to replace your hardwood floor than repair it:
If you have already sanded down your floors on multiple occasions to get rid of dents and scratches before refinishing them, you may now notice that the finish is inconsistent and that repeated sanding has created differences in the level of the flooring. Rather than sanding the floor and refinishing it yet again, it may be best to replace the hardwood floor.
Has your property been impacted by water leaks? If so, your hardwood flooring is likely to have been badly affected by this, which can lead to the boards no longer fitting flush and the wood becoming warped.
In these circumstances, replacing the hardwood is often the best decision and will ensure that your home once again benefits from having an attractive floor.
At RMC Remodeling Pros, we can cater to all your home flooring needs.
With a 5-star ranking on Yelp and Google, we have a proven track record of providing our customers with the best flooring services in Oregon.
Read Other Blog Posts to Better Understand Remodeling Advantages