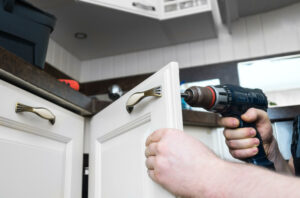 Looking to upgrade your cabinets? Upgrading your kitchen cabinets is a great way to quickly update the look of your kitchen. 
However, before you do a kitchen cabinet installation you need to make sure that you find someone qualified to do the installation for you. 
Failure to do this can mean that you get a poor installation that will need to be redone. This can prove very costly and the best way to avoid this is to hire a professional.
Here are five full benefits of having a local cabinet installer as opposed to doing the job by yourself.
Save Time Hiring a Contractor
Hiring someone to install your kitchen cabinet instead of doing it yourself saves you time. A local kitchen cabinet installer will install your cabinets very quickly. 
This prevents you from having to take the time to do it yourself. If you have a full-time job you may only be able to tackle the project on weekends. This could see you having longer finishing times.
Save Money
Instead of having to buy all the special tools that may be needed to do the installation, you can hire a professional to do it for you. 
Kitchen cabinets are expensive and one mistake can get scratches and imperfections on your cabinet. This can ruin the finish. 
If you are not happy with the finished results you may end up having to do the entire project over again. This can not only rob you of your time, but your money as well.
Easily Accessible
Hiring someone locally means that you will have someone easy to access. This makes it easy for you to correspond with them. It also makes it easy for them to get to you quickly.
All this means that you are likely to get your cabinets installed sooner rather than later.
Installer Safety
Cabinet installation is not the most dangerous task out there. However, if you are using tools and you don't know what you are doing, you can injure yourself. 
Why take the chance that you may sustain an injury, especially if you are doing a DIY with no one else to help you? It is better to hire someone to do the job for you.
Professionalism
One of the main benefits of having a professional cabinet installer is that they will have a lot of experience. When you are installing cabinets you may run into unexpected problems such as uneven walls. 
Professionals will be able to do a custom fit that works around any unexpected problems that come up.
Get Your Cabinet Installation Done Right
Professional cabinet installation is worth your time and money. Getting a professional to install your cabinets, ensures that it is done to the highest standard. 
You will not need to worry about things not working the way they should. Any difficulties that are found during the installation will be easily fixed by a professional and experienced cabinet installer. If you are ready to have your cabinets installed by the experts, please do not hesitate to contact us.
Give us a call so one of our experts can talk to you to determine how best to carry out your cabinets project. We will provide you with an affordable estimate and get the job done quickly.
Read Other Blog Posts to Better Understand Remodeling Advantages